Harrington Hoists TNER Series Theatrical Chain Hoist
Harrington Hoists introduced its TNER Series Theatrical Chain Hoists to address the diverse needs of the theatrical and entertainment markets.
---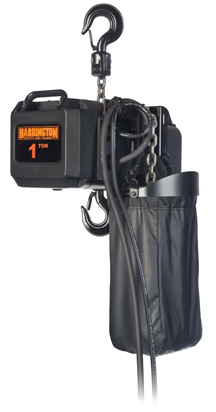 These full featured, three phase electric hoists provide reliable performance for use in theaters, concert halls, convention arenas, stadiums and studios.
Harrington's TNER Series Theatrical Chain Hoist includes industry-specific features such as a sleek round body with no sharp edges and built-in handles, grease packed gear box, black canvas chain container, plug and play voltage changer (to easily change between 208-230V/460-3-60V) and the world famous Pull-Rotor Motor Brake with a 5 year warranty; regardless of wear. The hoist complies with the German regulation BGV-D8 and the standard configuration meets CE Declaration. The TNER also has industry accepted speeds, conveniently fits in standard road cases and is available in capacities of ½, 1 and 2 Ton.
Additional features of the TNER Theatrical Chain Hoist include a unique chain guide that provides quiet and smooth guiding of the chain for use in standard (inverted) or reversible configurations, upper and lower paddle limit switches for maximum travel and a carbon friction clutch for consistent performance.