Posted July 10, 2017
Honeywell Salisbury Ball Stud C-Clamp
The new Honeywell Salisbury Ball Stud C-Clamp features a universal and ergonomic design that delivers both versatility and ease-of-use.
---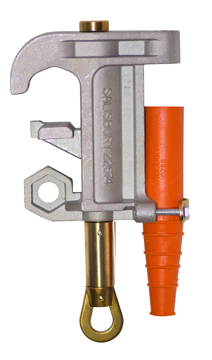 It can be used as either a Socket Clamp with a 1-inch ball stud or as a 1.5-inch C-clamp.
Highlights include a self-alignment feature; an encased eye screw to protect against thread damage, dirt, and harsh elements; an extended eye screw option for precise placement; and a superior bronze alloy double lead V-thread for smoother, faster and more efficient rotations. The clamp's ergonomic design minimizes physical effort while enabling faster, easier installation.