HOSPECO rebrands TaskBrand non-woven wiper line
HOSPECO announced that it has rebranded its TaskBrand All-Purpose Non-Woven Wiper product line.
---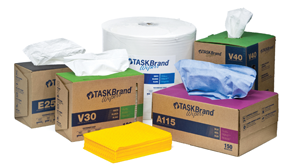 The rebranding features all-new packaging and a four-level product positioning strategy: Economy, Good, Better and Best.
The TaskBrand product line now offers four base substrates: Scrim/TAD (E series – Economy); DRC (V series – Value); Hydrospun (P series – Premium); and Sontara® (A series – Advantage). This range of wiper solutions affords customers the lowest "cost-in-use" for any all-purpose wiper application.
The new TaskBrand packaging features a uniform look and feel. Wiper packages are color coded by level, from Economy to Best, with task icons indicating typical applications for the level and weight of the wiper. Packages are also individually coded for basis weight — the higher the number, the heavier and stronger the wiper (e.g., P50, P60, P70, P80). All text on the packaging is provided in three languages: English, Spanish and French.
The rebranding does not affect the existing put-ups, so customers may still order flat, quarter-fold/poly bag, interfold (single-use dispenser box), Twin Tote dispenser box, center-pull roll, jumbo roll, and counter case configurations. All of these put-ups are available in a generic brown box or in private label packaging for distributors who prefer a non-branded or "own brand" identity.
For both distributor sales representatives and end users, the rebranding of the TaskBrand product line will make it easier to understand and compare the relative features and benefits of each wiper level, and thus to choose the wipers that best meet their needs.