Hyde Hose Hog HD Hose and and Tube Cut-Off Blades
A new high-performance blade engineered for cutting industrial grade hose and tube is available from Hyde Industrial Blade Solutions (IBS).
---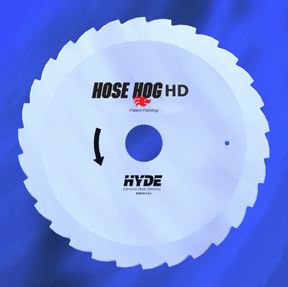 Whether used in production lines or in the field, Hose Hog HD Hose and Tube Cut-Off Blades move through the toughest hydraulic hose and deliver smooth cuts time after time.
Hyde Hose Hog HD Blades are engineered for maximum performance and minimal waste with a patent-pending design employing deeper "arcuates" or "swooping teeth" than earlier generation blades for a cleaner and more aggressive cutting action. In all types of cuts, these blades are more efficient than standard double bevel or wavy scallop blades, and reduce product waste from poor cuts, thus reducing rework costs and increasing output.
Made of tough M2 high-speed steel, Hose Hog HD Blades are designed to cut the strongest materials including tough 6-wire reinforced hydraulic hose in automated manufacturing or field operations. Unlike abrasive wheels, which hack a path through materials and generate heat, smoke and debris that can contaminate hydraulic cutting systems, these blades slice cleanly through the work resulting in little to no clean up after the cut.
Initially, Hyde Hose Hog HD blades will be available in 10" diameters with a .090 thickness and a ¾" arbor hole to fit most standard shop saws.