Hyde IBS Poultry Processing Blades
A full range of high-performance blades designed for almost any poultry processing operation is presented in a new four-color brochure available from Hyde Industrial Blade Solutions (IBS), a division of Hyde Tools Inc.
---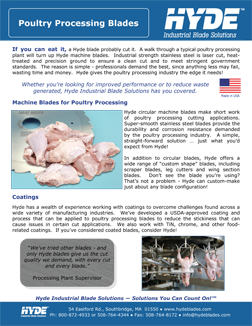 Hyde IBS Poultry Processing Blades are designed with high-grade stainless steel to outperform competitive blades by employing the highest manufacturing and quality control standards in their production.
This six-page brochure describes the full product line of standard circular aftermarket replacement blades designed for the most popular poultry processing machines including Simmons, Cantrell, Marel-Stork, Dapec, Johnson, Lewis, Contherm, and more. Helpful charts assist users in identifying the proper blades with a wide range of diameters and bevels available with or without slots, notches or scallops. Edge types such square, single or double bevel can also be referenced.
Hyde's line of premium Meat Miser Circular Poultry Processing Blades is also presented in this new brochure along with a complete and extensive listing of in-stock blade configurations in a variety of diameters and thicknesses for easy reference. These blades are engineered for maximum performance and minimal waste with deep "arcuates" or "swooping teeth for a cleaner and more aggressive cutting action.
The company's offering of non-circular specialty blades including scraper blades, leg cutters and quartering and wing section blades is also discussed. They come in a variety of shapes, and examples are shown of "typical" non-circular specialty blades for reference. Hyde's custom blade design and manufacturing capabilities are also presented along with information on available coatings that can be applied to reduce the stickiness that can cause issues in certain food processing cutting applications.