Hyde Tools celebrates 140 years with commemorative tools
In celebration of its140th year, Hyde Tools issued a commemorative version of its classic Black & Silver putty knife.
---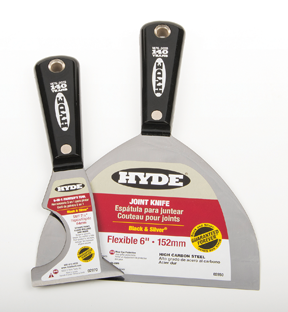 In 1875, the telephone was invented, the internal combustion engine was patented and Thomas Edison figured out how to make duplicate copies of documents. It was an industrious year.
That was also the year that that Isaac P. Hyde founded Hyde Manufacturing Company, which became a well-known name in cutlery and industrial knives and went on to become a leader in hand tools. Today, that company is Hyde Tools, still of Southbridge, Mass., and celebrating its 140th year in business.
Now part of the Hyde Group with a sister company in Canada (A. Richard Tools), Hyde manufactures a wide range of products marketed throughout the world under the HYDE brand name. Key Hyde offerings include patented items that have helped transform how jobs are completed in paint, drywall and several other industries. The company's newest innovations range from PivotPro Water Wands, being brought to market this year, to innovative spray-painting systems, dustfree sanding tools and problem-solving drywall tools and taping products. The retail categories Hyde now supports include surface and paint preparation; wall repair; paint accessories; drywall and masonry tools; airless spray equipment; hose and pressure washer accessories and more.