Hyde 17-in-1 Painter's Tool
Carrying tools – or worse yet struggling to find tools on a work site – can really slow things down.
---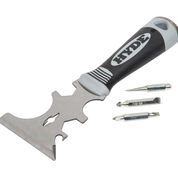 Eliminate the hassle with the new HYDE 17-in-1 Painter's Tool.
Made from durable .075 thick carbon steel, Hyde's newest tool combines the company's trademark high-quality, lightweight design with a tool that can: 1. scrape paint, 2. spread compound, 3. open cracks, 4. pull nails, 5. set nails, 6. open cans, 7. open bottles, 8. clean regular rollers, and 9. clean mini rollers. The 10th and 11th use are the ¾" and 11/16" wrenches you need to connect your whip hose to your both your spray gun and your main airless hose. For the other 6 uses, just look to the handle and underneath the Hammer Head end. Numbers 11-14 consists of four different screwdriver bits that are securely stored in a pull-out drawer in the handle and insert into the handle end for quick, easy use. And finally under the Hammer Head® is a tool that can be used as either a scribe or a nail set.
This rugged tool has an over mold handle with a thumb stop for safety and a stainless steel blade that resists rusting and is guaranteed forever. 17 uses – one ultimate painter's tool.