Hyde Quarter-Moon Hand Knife
A new ergonomically-designed hand knife designed for cutting flooring, plastics, leather or rubber belting is now available from Hyde Industrial Blade Solutions (IBS).
---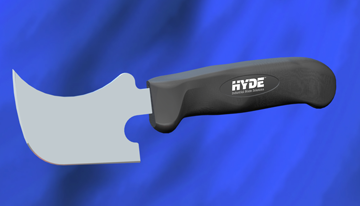 The Hyde Quarter-Moon Hand Knife is a highly versatile tool in the factory or in the field.
Designed with a rugged, soft-grip handle with a no-slip texture for a surer grip, the Hyde Quarter-Moon Knife has a blade made of durable 1095 high-carbon steel to hold an edge longer than comparable knives made of lesser steels. The back edge of the knife is "safe" (not sharp) to help prevent cuts and nicks to the hand. Also, this hand knife can be re-sharpened for years of use.
Also known as a "Leister" spatula or "Sinclair" knife, the Hyde Quarter-Moon Knife has a multitude of uses including shaping linoleum floors, trimming excess PVC welds, cutting and skiving leather, straightening leather belts or cutting cleats and v-guides on conveyor belting once "welded".
Starting with a wide range of the highest-grade alloy steels including powdered metals, Hyde employs proprietary processes in blanking, laser cutting, heat treating, grinding and polishing to ensure superior cutting performance of each individual blade. Manufactured in facilities with ISO 9001:2008 plant certification, durable Hyde IBS blades are engineered for long life.