ProEdge Sharpening System
Designed for companies that want to consistently deliver high-quality yields from their cutting or processing operations, the ProEdge Shapening System is now available from Hyde Industrial Blade Solutions (IBS).
---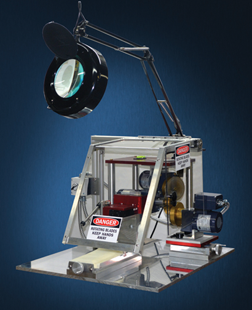 This safe, simple, economical and effective machine allows users to re-hone industrial circular blades at their location.
The ProEdge Sharpening System reduces blade changeover delays and machine downtime caused by waiting for blades to be returned by a third-party sharpener. This new bench-top machine is easy to operate and is designed to hone blades from a minimum of 100mm/3.94" diameter up to a maximum diameter of 400 mm/15.75". This system can handle any standard single or double beveled blade to produce burr-free edges and bevels from 0 to 32 degrees.
Operating on standard 120 volt service (220 volt machines are available upon request), the ProEdge Sharpening System is simple and safe to use and takes users only minutes to learn how to re-hone blades. Made in the USA with operator safety in mind, this machine utilizes diamond-impregnated sharpening disks, which do not generate dust like grinding wheels.
Weighing less than 100 pounds, the ProEdge Shapening System is portable and can be moved to accommodate changing production operations within manufacturing plants. It also comes with a quick disc changeover system allowing operators to replace sharpening disks on the machine in seconds.