Posted June 21, 2017
HYTORC LION Gun
HYTORC introduced the latest addition to the LION Gun series – the LION-.7.
---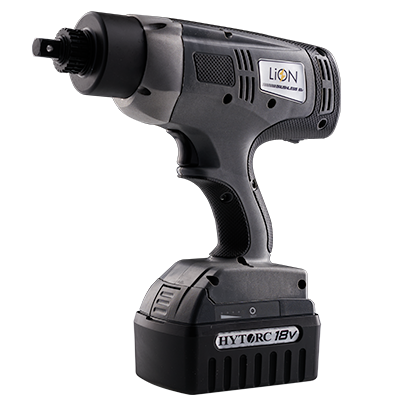 The LION Gun is a lithium ion battery-powered torque gun, which is lightweight and portable, with no attachments to hoses, cords or compressors. The industrial strength, non-impacting gear box delivers adjustable torque faster, safer and more reliably than manual clicker wrenches, impact wrenches and other tightening tools. The technology is free of the loud noise and high vibrations that can lead to long-term health issues for users.
HYTORC's LION-.7 – has a ¾-inch drive, to deliver greater torque for larger applications. The LION-.7 provides a minimum torque of 150 foot-pounds and a maximum of 700 foot-pounds. The original LION-.25 has a ½-inch drive, with a minimum torque of 25 foot-pounds and maximum of 250 foot-pounds.
"As the leading experts in industrial bolting technology, the team at HYTORC has applied its long history of bolting know-how to the LION Gun series of products," said HYTORC president Eric Junkers. "The LION-.7 provides the same safety and simplicity as the LION-.25, while producing greater torque for larger applications. Both of the LION Gun models bring our customers improved productivity and safety over traditional bolting systems."
The LION Gun is an affordable precision torque multiplier with built-in data recording. The user simply needs to set the desired torque output on the LION's display and pull the trigger to get fast, precise, repeatable torque without excessive noise or vibration. The rotation angle can also be programmed for simple torque and angle bolting. After tightening, the LION automatically releases for fast movement from nut to nut. Once the bolting application is complete, the LION Gun can be connected to a PC or tablet to export the recorded data into an Excel-friendly format for reporting, storage or additional analysis.