Posted August 17, 2016
IDEAL Smart-Grip tool line
IDEAL Electrical offers its Smart-Grip line of heavy-duty hand tools engineered for the electrician who demands control and comfort in pliers, cable cutters and crimping tools.
---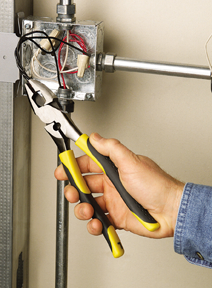 The IDEAL Smart-Grip tool line is comprised of two side-cutting "linesman" pliers (9-1/4" with or without crimp), two diagonal pliers (8" with or without angled head), two needle nose pliers (7-3/4" and 8-1/2"), two tongue & groove pliers (9-1/2" and 10"), a cable cutter and a multi-crimp tool, all manufactured in the USA.
The tools earned the Smart-Grip name from their textured, dual-durometer Santoprene handle. Resistant to sweat, oil, water, and common chemicals, this two-part handle design balances comfort with strength. The soft overmold provides a cushioned, no-slip grip, while the harder, impact resistant underlayer is virtually indestructible, so it can easily withstand day-to-day knocks and harsh work environments.
Smart-Grip tools are further distinguished by the IDEAL FastFinder identification system that lets electricians quickly select the exact pliers, cutter or crimper needed from their pocket, tool bag, box or bench. The hard underlayer of each handle is uniquely color-coded – yellow, red, dark blue or light blue -- plus features a tool-identifying letter printed on the inside of the handle. For example, a yellow handle with a raised N on the inside of the grip easily identifies needle-nose pliers. Because of the raised lettering, tools can be identified by touch alone, an important advantage in dark workspaces or when the electrician can't afford to take his eyes off a project. Still another advantage to the grip is a lower profile shoulder that will not catch on a pants pocket or tool pouch.
The tools are designed for the professional trades. The drop-forged, high carbon steel construction is exceptionally durable, plus many of the tools are fully-polished to resist rust and maintain their premium appearance. Cutting edges are induction hardened for superior cutting ability, and all pliers, except for the cable cutter, are rated for cutting screws, nails, hardened wire and ACSR.