Dykem Brite-Mark Roughneck marker
ITW Pro Brands launched the DYKEM Brite-Mark Roughneck marker, an industrial valve actuated marker capable of writing through oil and grease, and on rough, rugged surfaces.
---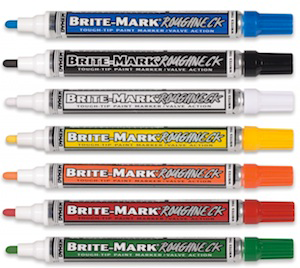 "The Brite-Mark Roughneck marker can withstand the test of time even in the harshest of outdoor environments," said Robert Monroe, product manager, ITW Pro Brands. "Optimized for rugged conditions, the marker features the same industrial-grade paint that DYKEM customers have known and trusted for decades."
The Brite-Mark Roughneck combines industrial-grade paint with an ultra-durable tip designed for rusty, rough, oily, greasy and demanding job sites. It is ideal for applications within oil and gas, construction, automotive, manufacturing and other markets.
The Brite-Mark Roughneck features a poly-fiber tip that resists fraying and disintegrating when used on rough surfaces – even sandpaper. The tip also repels oil and grease and can be wiped clean easily. Because the tip is valve-actuated, customers can "re-ink" it easily if it dries out. The marker also features industrial-grade paint that is UV resistant allowing it to withstand harsh outdoor conditions for long periods of time.