Permatex Black Polyurethane Adhesive
Permatex has developed Black Polyurethane Adhesive, a versatile and easy-to-use adhesive that can be used on both interior and exterior applications.
---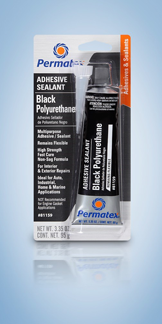 Permatex Black Polyurethane Adhesive works equally as well in harsh environments and heavy-duty applications. This innovative, single-component, silicone free, elastomeric adhesive is formulated to be effective in a wide range of applications including automotive, home, industrial and marine repairs. It is low odor, UV resistant, and has particularly low volume shrinkage. It remains flexible and provides a permanent bond to a wide range of materials.
Permatex Black Polyurethane Adhesive is paintable with most paints and can be used above and below the water line. It bonds easily to steel, stainless steel, aluminum, glass, fiberglass, rubber, plastic, ABS, and PVC. Key automotive applications include: Dashboard, internal/external trim, console, doors and body panels, windows, headlights, accessories, seams, sunroof, spoilers, trunk, underbody, wheel well, and mud guard. Since Permatex Black Polyurethane Adhesive is silicone free, it is safe for use in auto body and paint shops.