Posted March 26, 2021
SCRUBS Hand & Tool Wipes
ITW Pro Brands announced the launch of a general purpose, soft wipe for surfaces and hands.
---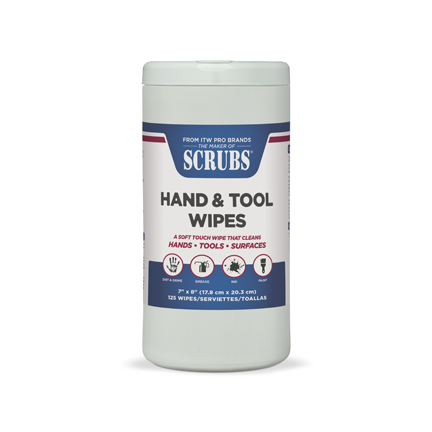 With focus on providing convenient cleaning solutions for customers, SCRUBS has expanded the line to include SCRUBS Hand & Tool Wipes.
SCRUBS Hand & Tool Wipes combine an effective, general purpose cleaning formula and a soft wipe that's safe for hands and effective on countless surfaces. Featuring a fresh citrus scent, these wipes contain no harsh chemicals and do not leave a heavy residue. SCRUBS Hand & Tool Wipes are the balance of tough and soft in a convenient wipe to offer an all-in-one cleaning solution.
"ITW Pro Brands takes pride in formulating products based on the needs that our customers bring to our attention," Greg Coy, senior product manager. "Our flagship product, SCRUBS in-a-Bucket, is a textured towel formulated specifically for heavy-duty hand cleaning, while also being used to clean surfaces because of the convenience factor. In speaking with these customers, we realized there's a need for a non-textured, cleaning wipe for surfaces and tools, but is also safe to use on hands."
The general purpose formula replaces the need for soaps and a variety of cleaners and the absorbent wipe makes it effective on spills and messes. Another added benefit is that this single product is a replacement for dirty rags, shop towels and cleaning sponges. This wipe has proven effective in removing dirt, grease, latex paint, spackle, caulk and a variety of organic-based stains.
SCRUBS Hand & Tool Wipes are 7 by 8 inch wipes available in 125 count canisters that are packed 6 to a case. A wall mounting bracket that accommodates the canister is also available to these convenient wipes are always within reach.