Posted July 19, 2021
LPS MAX - the next generation MRO products
ITW Pro Brands announced the next generation of products with LPS MAX; a new line of MRO lubricants, degreasers and electronic cleaners that are safe, efficient and sustainable.
---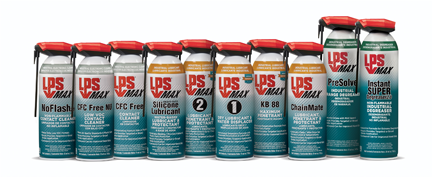 The LPS MAX products focus on meeting the needs of heavy industry through increased product performance, packaging improvements, regulatory/environmental compliance and sustainability. The 10 products within the LPS MAX line feature a slip resistant aerosol can topped with an integrated flip straw actuator that allows the operator the choice of focused precision to broad sweep product application.
"This is an exciting addition to the LPS legacy. In working with customers to identify pain points in their applications, we've developed true product solutions that will enhance the user experience and increase performance," Greg Bruce, senior technical marketing manager for ITW Pro Brands.
Once the vanguard of the brand, LPS 1 has undergone a performance boost. LPS MAX 1 provides increased penetration and water displacement over the original LPS 1 formulation. LPS MAX 2 features an upgrade to its lubrication, penetration, and metal protection capabilities. And LPS MAX KB 88 penetrates and displaces moisture faster; drying out fasteners and allowing for a smoother release with less mess.
"Packaging improvements aside, these enhanced formulations alone take this product line to the next level. Not only do they offer suppier performance, but they are safe and sustainable," Bruce said.