SCRUBS-IN-A-BUCKET limited-edition hunting package
ITW Pro Brands is now offering its popular SCRUBS-IN-A-BUCKET pre-moistened hand, tool and surface cleaning towels in a limited-edition hunting package.
---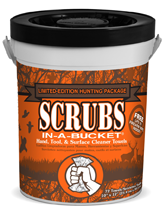 The promotional packaging is blaze orange and includes a free LPS 1 firearms cleaning and lubrication wipe (also from ITW Pro Brands) on the package. The limited-edition package will be available through March 2015 while supplies last.
"We listen to our customers constantly and work hard to give them products that make their jobs easier and tie into their lifestyles," said Tim Rasmussen, director of marketing, ITW Pro Brands. "Our research shows that the most avid SCRUBS users are interested in hunting, fishing, football and other outdoor activities. We also know they're tremendously loyal to our product. This exciting new limited-edition hunting package is our way of acknowledging their loyalty—and their interests."
SCRUBS pre-moistened wipes are an effective, quick and convenient way to clean hands on the job site or in the field this hunting season. The wipes feature the same great formula that customers know and trust and will be blaze orange instead of the traditional SCRUBS blue. The limited-edition bucket is also useful around the house after the wipes are gone.