Scrubs Medaphene Disinfecting Wipes
ITW Pro Brands has announced the launch of a 12-count "Grab & Go!" flat pack for its Scrubs Medaphene Disinfecting Wipes.
---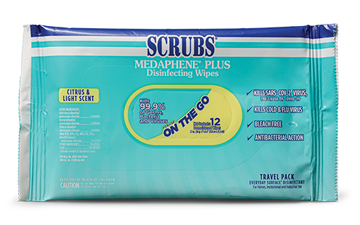 Medaphene Plus is known for its effectiveness against viruses, bacteria, and fungi that are typically found in institutional, industrial, hospitality, and healthcare facilities. With 12 pre-moistened wipes in each compact package, the flat pack delivers convenience and portability for on-the-go customers that need an effective one-step disinfecting solution attheir fingertips.
Scrubs Medaphene Plus Disinfecting Wipes are proven to kill 99.9% of germs, including SARS-CoV-22 virus, the cause of COVID-19. The textured, citrus-scented wipe works quickly to loosen and absorb contaminants, leaving surfaces clean and disinfected.
"ITW Pro Brands recognizes that many customers want to carry with them a cleaning solution that is quick, effective, and easy-to-use; a product that will keep them safe in environments where pathogens may be present," said Greg Coy, senior product manager.
"For facilities that are space-constrained, this new packaging format also limits the need for a large storage area to keep basic cleaning supplies on-hand. Even more, it's great for vending machines!"
Scrubs Medaphene Plus Wipes are 6 by 8 inches and are packed 60 to a case, for a total of 720 wipes per case.