Epcon S7 Hybrid Epoxy Adhesive
Red Head Adhesive Anchoring Systems has introduced Epcon S7 Hybrid Epoxy Adhesive for cracked concrete and seismic applications.
---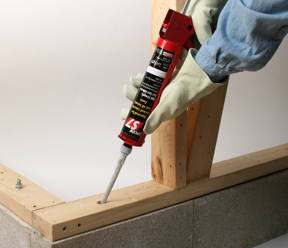 It is engineered for adhering threaded rod and reinforcing bar into concrete and has many advantages over the competition, such as a fast cure and high flow nozzle, which drastically reduces installation time, saving the contractor labor time and money.
The new S7 Hybrid Epoxy features the high strength and reliable performance of an epoxy, with the fast curing characteristics of an acrylic. It is stronger than concrete and is the only fast cure ICC-ES listed adhesive for use in submerged and water filled holes as well as saturated and dry conditions. On the job site, this ability saves time and money by enabling construction crews to install threaded rod or rebar in concrete that is too damp or soaked to bond with other adhesives.
"From adhesive applications with completely dry concrete, to being the only ICC-ES listed fast cure adhesive designed to cure in concrete under water," said Peter Leal, ITW Brands Red Head Product Manager, "Epcon S7 Hybrid not only saves contractors time and money but also helps architects and engineers solve design and installation issues."
For architects and engineers Epcon S7 meets specification and code compliance (see code approvals below), and with its superior performance over other adhesives, they can design for minimal edge and spacing distance – less than 1" spacing with a 3/8" diameter anchor.
It can be installed in all-weather environments (0° to 110°F). There is no drip or sag, so it can be used in overhead applications and is environmentally friendly and easy to clean up.
The Epcon S7 Hybrid Epoxy Adhesive comes in a 10 oz. cartridge for use with a standard caulk gun, and includes a mixing nozzle. It has a 15 month shelf life and is Made in the USA.
Epcon S7 Hybrid Epoxy Adhesive has the following code approvals:
ICC-ES ESR Report No. 2308, approved for Cracked, Uncracked, and all Seismic Zones (A-F)
Florida Building Code
IBC 2006/2009
IRC 2006/2009
National Sanitation Foundation (NSF) 61