ITW Brite-Mark Jumbo
ITW Professional Brands today unveiled the newest addition to its Brite-Mark line of paint markers: The Brite-Mark Jumbo.
---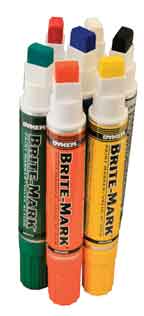 Brite-Mark Jumbo is a permanent paint marker ideal for making clear, bold markings on almost any surface, including metal, rubber, plastic, glass, concrete, leather, stone, wood, vinyl and more.
"Dykem Brite-Mark Jumbo is commonly used to permanently identify inventory, assemblies, tools, finished products or work-in-progress in industrial environments," said Robert Monroe, DYKEM Brand Product Manager, ITW Professional Brands. "Its bold, 1/2-inch wide markings are visible from great distances."
Ideal for use in metal fabrication, fleet management, construction and other applications, the Dykem Brite Mark Jumbo writes on almost any surface. Its quick drying, oil-based paint withstands indoor and outdoor conditions without fading, chipping or losing opacity.
The Dykem Brite Mark Jumbo features a valve-actuated mechanism that prevents the paint in the barrel from drying if the cap is left off, and the felt tips are reversible and replaceable to assure complete use of the paint in each marker. It also features a heavy-duty aluminum barrel that retains its shape and a two-minute dry time. The marker is Hazardous Air Pollutants (HAPs) free making it a smart alternative to aerosol spray paint and stencil applications.