Strapbinder battery powered GripClamp
Strapbinder's new battery powered GripClamp tool tensions, locks and cuts the strap, eliminating the need for multiple tools.
---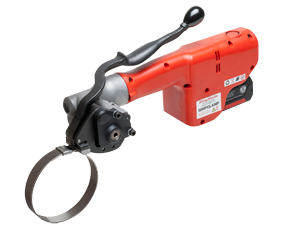 Both portable and bench mountable, GripClamp operates on all brands of 5/8" or 3/4" stainless or galvanized preformed J-series hose clamps, providing greater flexibility by simplifying clamp inventory and maximizing versatility.
With unlimited take-up and adjustable tension settings, GripClamp eliminates refeeding regardless of the hose diameter. It delivers 125 clamps per charge and features an 18 volt Bosch lithium-ion battery that is fully charged in only 30 minutes and 80% charged in 15 minutes.
Weighing 8.5 lbs., GripClamp features an ergonomic grip design and evenly distributed weight to help reduce operator fatigue. Single touch one-button control with an easy cutting mechanism further simplifies operation.