IDEAL Digital Insulation Meter
The IDEAL 61-797 Digital Insulation Meter is a rugged, industrial-grade tester.
---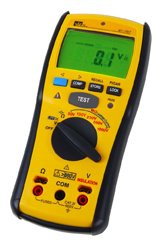 It is designed for commissioning, routine troubleshooting and preventive maintenance to identify whether insulation is performing at an effective, safe level.
It prevents oil, dirt, excessive heat or cold, vibration and moisture will damage electrical insulation, threatening heavy equipment operation and endangering employee safety.
Periodic testing of insulation for signs of deterioration will spot breakdowns in electrical systems, generators, switchgear and motor windings before failure occurs. More importantly, insulation testing can prevent the dangerous occurrence of short circuits or short to grounds.
Using the 61-797, the technician will quickly determine the integrity of insulation in new and existing wiring by identifying capacitive, absorption and leakage current at multiple test voltages (50V, 100V, 250V, 500V and 1000V) and resistance up to 20G ohms. In addition, this versatile tester measures earth-bond resistance to assure verification of the continuity of the protective bonding, automatically senses and displays AC/DC voltage to 600V, plus calculates the Polarization Index (PI) and Dielectric Absorption Ratio (DAR).
Insulation testing is most effective when it is part of a scheduled maintenance program. Repetitive testing is made easier with the 61-797's straightforward Pass/Fail function and its internal storage of values. Another convenience are the included "twist-on" alligator clips that fit over the test leads. There is also a remote test button for two-handed operation.