Posted May 20, 2019
Irion-America new eXcePt series caulking gun
Irion-America, manufacturer of dispensing tools and caulking gun products worldwide, introduced to the North American marketplace a new "eXcePt" series product line featuring innovative "drip control" caulking and sausage guns.
---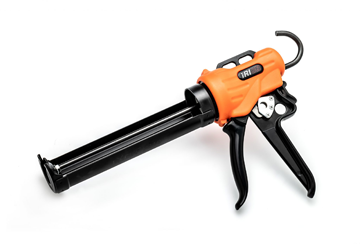 The eXcePt series offers various features including a rubber-coated handle and trigger, antirust/scratch proof barrel and built-in tip cutter. At a 19:1 thrust ratio, it dispenses various materials with extreme ease and is ideal for trade professionals. The adjustable 'drip control' technology can be activated by a switch on the handle and can be turned on and off while laying a bead.
Unlike traditional 'drip-free' and low-grade caulking guns, our durable technology allows for no dripage, mess or waste, saving you money.
Irion-America is now stocking the eXcePt series products in the United States for 310 ml or 10.5 fl oz cartridges and sausages and cartridges up to 600ml.
"With the launch of the eXcePt model we can now offer even more quality products to our client base," said Thomas Irion, CEO of Irion.