Posted October 21, 2019
Irion-America XP-DELTA caulking gun
Irion-America introduced the XP-DELTA Caulking Gun featuring adjustable thrust ratios, 12:1 or 25:1, and drip control technology.
---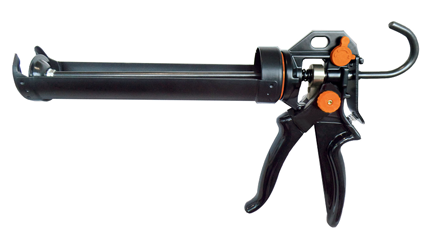 The XP-DELTA is ideal for trade professionals. When set to a 12:1 thrust ratio, the gun dispenses standard materials such as acrylic, latex, and silicone caulks or similar compounds with extreme ease.
When switched to a 25:1 thrust ratio, the gun becomes ideal for dispensing thicker adhesives and is perfect when working in cold weather.
The XP-DELTA offers several additional features including a rubber-coated handle and trigger, antirust/scratch proof barrel, rotary carriage/ladder hook and extremely tough and durable catch plate. The Drip Control Technology can be turned on & off with your thumb and when on the gun becomes completely Drip Free. It is compatible with 10oz or 310ml cartridges.
"With a small movement the thrust ratio changes from 12:1 to 25:1, perfect for everyone working with high and low viscous materials," said Thomas Irion, CEO of Irion. "This ONE product takes the place of two caulking guns for trade professionals and we are thrilled to be offering this first-of-its-kind product to the North American marketplace."