Posted February 1, 2017
Justrite cabinet for storage of corrosives
Durable, compact countertop cabinet safely stores up to two 4-liter bottles of acids or bases near your work space.
---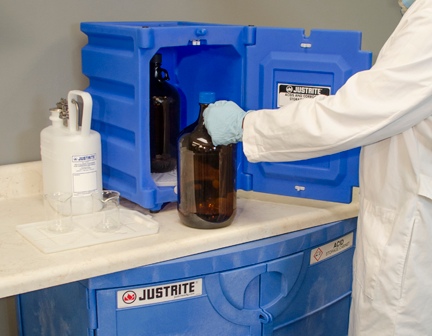 Never worry about corrosion while storing acids such as hydrochloric, sulfuric, or nitric acids; or bases such as sodium, potassium, or calcium hydroxide in Justrite's new, metal-free cabinet for corrosives.
Polyethylene construction offers excellent chemical resistance to protect against spills or damaging vapors. Easy to install door can be hinged from right or left for best worktop utilization—accepts optional padlock for security. Includes three application-specific labels: Acid, Base, and Corrosive. Two removable poly trays included—one to contain leaks inside and one for handy worktop use that conveniently stores under cabinet.