Rigid-Lock QuickBerm containment berm
New Rigid-Lock QuickBerm drive-through containment berm offers superior protection against small-to-large scale spills from drums, IBC totes, tanks, and leaky equipment.
---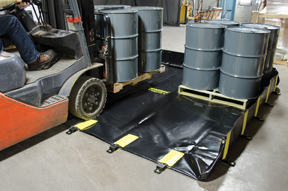 Patented Rigid-Lock wall support provides unobstructed floor space for vehicle tires, foot traffic, and cleaning. Single-piece construction makes set up quick and easy—no assembly required.
Durable modified PVC coated fabric withstands a broad range of chemicals including petroleum, oils, grease, and most acids. Flexible design makes it easy for sidewalls to lower for small vehicles to drive in/out, then with a simple tug, support walls lock back in the upright position for spill readiness. Reinforced Critical-Corner™ construction prevents seam leaks for fluid-tight reliability. Berm folds down for easy storage and portability —for use indoors or out.