Justrite corrosive chemicals storage
Never worry about corrosion while storing strong acids such as hydrochloric, sulfuric, or nitric acids; or bases such as sodium, potassium, or calcium hydroxide in Justrite's new, metal-free polyethylene cabinet for corrosives.
---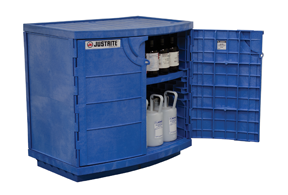 With a robust design constructed of chemical-resistant, high density polyethylene, it protects against damaging container leaks or vapors when storing harsh chemicals.
Versatile in any environment, the cabinet features a recessed kick-toe for improved ergonomics when used under a counter, or use for stand-alone storage and take advantage of top work surface. A spacious interior holds up to 36, 2.5-liter bottles and includes an adjustable shelf. Leakproof sump with a big 8.5-gal capacity features a removable sump cover for easy cleaning of spills, and serves as a bottom shelf for additional storage. For expanding storage needs, stack an additional cabinet on top without taking up additional floor space.