KH Industries Quad Light
KH Industries, U.S. manufacturer of industrial grade lighting and power products, expanded its offering on its Quad Light to include 3,200 and 7,200 Lumen LED models.
---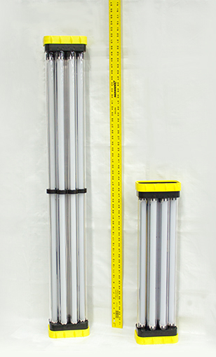 The Quad Light is known for its durability and is the industry standard for rugged, wide area lighting in large scale manufacturing, and in the overhaul, maintenance and repair industries. Now with the recent dual cUS/CSA Certification for the 3,200 Lumen and the 7,200 Lumen models the LED Quad Light will deliver even more durability as LEDs are virtually unbreakable.
"The quality and lumen output of LEDs has dramatically improved in the last few years. We are using the new generation of Surface Mounted (SMD) LEDs in the Quad Light which only adds to the durability and ruggedness of the light. The new LED Quad Lights have a longer bulb lifespan, lower power consumption, and are more durable than traditional fluorescent." explains Joseph Pinker Jr., president of KH Industries.
"The intensely bright lumen output and color rendition surpassed our quality tests. Additionally, we've partnered with the world's largest aerospace company that has been field testing the lights. Their positive feedback on the LED Quad Light was the driving force behind bringing this product to market for the rest of the industry." says Pinker.