Posted March 15, 2018
Oil Eater Flex Line II Parts Washer
Kafko International introduced its improved line of Flex Line II Parts Washers with a second generation design that features several upgrades.
---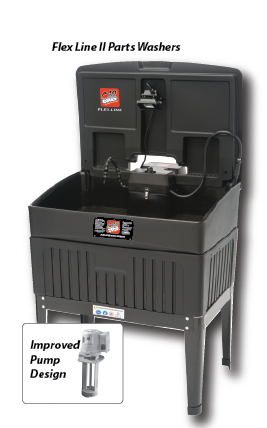 The most significant upgrade is the use of an all premium immersible pump designed to move fluids filled with particulates including metal shavings. Manufactured entirely from cast metals, these pumps are a vast improvement over the submersible aquarium/fountain pumps typically used by the industry. Additionally, the new Oil Eater pumps are wired to the stringent international standard, IP-45, and are both water and dust proof. The pumps are ISO-9001, CSA and European CE certified. This new pump is available on all models of the Oil Eater Flex Line II Parts Washers.
A second upgrade can be found in the control board used for the heated version of these machines. Kafko has added improved heat sync technologies to their board design to better dissipate heat. This change will help to improve the life of the boards found in the heated versions of these machines.
As in the prior versions, all models of these Flex Line II Parts Washers are water-based, are shipped ready to use including six gallons of Oil Eater Cleaner & Degreaser, and these units carry a limited three year warranty. All models are constructed of high-impact HDPE and feature a 440 pound capacity working tray, adjustable gooseneck spigot, flexible cleaning brush, and Oil Eater Skimmer Pads that soak oils but repel water. The Premium and Professional models are heated and are equipped with low fluid protection. Several options are available for all versions of these parts washing machines.