Posted May 16, 2022
Kroil Penetrant with Graphite
Kano Laboratories announced the rebranding of Penephite to Kroil Penetrant with Graphite and rolled out new packaging.
---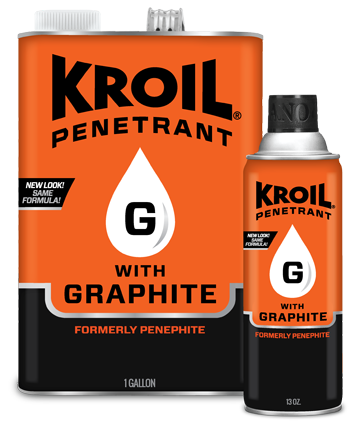 Kroil Penetrant with Graphite is a distinctive blend of oils, solvents and graphite engineered to penetrate the smallest gaps of corroded metals to loosen seized parts. The graphite is designed to stick to metal and provide long-lasting lubrication, which will remain in place in operating temperatures up to 700°F (371°C).
"Kroil products have been used and trusted by pros and experienced DIYers alike since 1939," said Liza Klein, VP – marketing, Kano Laboratories. "We are adding the product, formerly known as Penephite, to the Kroil line with a new name and new packaging to better align it with the brand."
Kroil Penetrant with Graphite excels at easing the removal of large metal components and equipment parts. The premium penetrant can be used on nuts and bolts, fan
shafts, valve stems, hinges, gaskets, transfer belts, bearings, locking mechanisms, leaf springs and more.
Kroil Penetrant with Graphite is available in 13-ounce aerosol cans, and one, five, and 55-gallon liquid containers.