Klein Tools Switch Drive System
Klein Tools released the new Switch Drive Handle System to easily alternate any accessory with a power groove between a power tool and hand tool.
---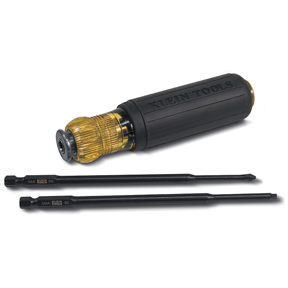 While power drills can make quick work of large fastening jobs, a screwdriver is still needed for those times when you need the finesse of a hand tool. Klein's new Switch Drive Handle System allows you to switch between a power drill and hand tool minimizing the number of tools and saving space.
The patented quick release mechanism in the handle secures any accessory with a ¼" hex so you can move quickly from a power drill to a hand tool while maintaining the strength and performance found in a traditional Klein fixed blade screwdriver.
Available in two models, the Power Driver Set (SKU: 32700)
features the Switch Drive handle plus #2 Phillips and #2 Square 6" (152 mm) power blades. The Power Nut Driver Set includes the handle and three 2" (51 mm) magnetic power nut drivers (1/4", 5/16", and 3/8").
"While the use of power drills for fastening is on the rise, the ratio of hand tool vs. power tool use is 50/50," states Jon Ginsberg, product manager at Klein Tools. "The Klein Tools Switch Drive Handle System offers a quick and easy way to alternate between the handle and the drill, without sacrificing the durability or performance demanded of Klein's professional tools."