Klein Tools MM500 Auto Ranging Multimeter
Klein Tools introduced its new MM500 Auto Ranging Multimeter that stands up to real world environments.
---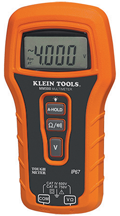 The MM500 Auto Ranging Multimeter is an easy-to-use tool for verifying or troubleshooting electrical circuits safely and reliably. With a totally sealed IP67 dust and waterproof rated case, 3 m / 10 ft. drop protection and one of the highest safety ratings -- CAT IV (600V), the MM500 is tougher than the average meter in the field today.
"We have heard so many stories of professionals babying their meters with special bags and cases. On more than a few occasions, people have stated that they even take their cheaper/older meter up on the ladder in case they drop it," states John McDevitt, executive vice president of sales and marketing. "Klein Tools has designed test and measurement products to meet the utmost levels of safety and durability so they can weather the harsh job site conditions like the rest of our tools."
The MM500 Auto Ranging Multimeter measures up to 750 volts AC and DC, resistance and continuity. It has a user-friendly three button functionality, detects AC or DC voltage automatically, and includes both visual and audible continuity indicators. Self-storing leads are perfectly spaced for quick measurements of tamperproof outlets. Auto-Hold automatically locks readings on the display when measuring in hard to access areas. Other MM500 features include a 4000 count LCD display, low battery indicator, and auto-power off. By design, the meter uses easy-to-find AAA batteries and includes a battery door with captive screws to eliminate lost fasteners. Standards met: IP 67 dust and waterproof, 3 m/10 ft. drop protection and CAT IV (600V) safety rating.
"To confirm the MM500 was strong enough to meet our high standards, Klein put it through some grueling tests and posted the videos online," states Bruce Kuhn, test and measurement product manager. "We wanted to make sure the MM500 was tougher than the water, dirt, drops, collisions and working voltage of the real world, before we would label it a Klein tough meter."