Klein compact ratcheting modular crimper
Klein Tools introduced the new Compact Ratcheting Modular Crimper (Cat. No. VDV226-107) extending its Voice/Data/Video (VDV) line of tools, connectors and testers.
---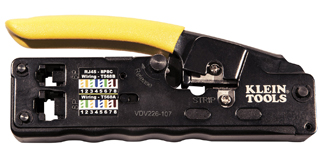 This crimping tool delivers fast, reliable connector terminations for voice and data applications. With a direct lateral crimp action and a heavy duty ratchet, it ensures an even, precise and complete termination on every cycle producing more dependable connections.
Klein Tools' new VDV Compact Ratcheting Modular Crimper is an all-in-one tool for cable preparation and connection. It cuts and strips CAT6, CAT5e, CAT3 and flat-satin voice cables as well as crimps six and eight position modular connectors. A heavy-duty ratchet ensures complete termination by executing a full compression cycle every time. The direct lateral crimp action provides a more even, precise contact termination across all pins. An ergonomic and compact design facilitates single-hand operation making it comfortable to use and easy to store. The most commonly used wiring diagrams are placed directly on the tool for quick reference. In addition, other frequently used wiring diagrams are downloadable to your mobile device.
"Our Compact Ratcheting Modular Crimper has both a heavy duty ratchet and lateral crimp action to provide a more stable and reliable termination each and every time it is used," said Sean O'Flaherty, senior product manager. "Yet the tool is about 40% smaller than many other models, making single-handed operation natural."