Knipex anvil shears
Knipex Tools introduced its new anvil shears for cutting soft materials.
---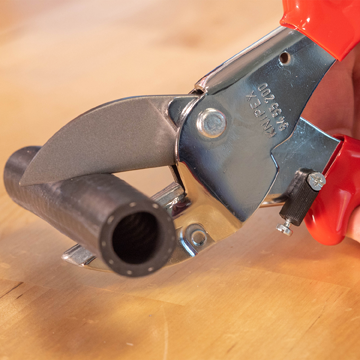 The Anvil Shears are designed for cutting a variety of soft material, including rubber, leather and hose. The new Anvil Shears have a cutting capacity for round material up to 1" and can cut flat material up to 1 1/2-inch maximum width.
The blade of the Anvil Shears is forced against the anvil, which creates an easy and clean cut without damage or deformation on soft materials. Main features for the Anvil Shears include a strong, replaceable blade and an opening spring and locking device. The locking device is easy to use and keeps the blades secure when not in use. The Anvil Shears are constructed of rolled and oil-hardened tool steel and feature plastic coated handles for comfort and easy cleaning.
"With the Knipex Anvil Shears you will get a clean, even cut on heater hose, airline hose and radiator hose with ease," said Peter Grable, product manager, Knipex Tools. "The Anvil Shears is a unique tool on the market and is faster, safer and easier to use compared to other tools used to cut rubber hoses like standard utility knives."