Posted July 22, 2020
Knipex Tools introduces Cobra XS
KNIPEX Tools introduced the Cobra XS (87 00 100) to its line of water pump pliers.
---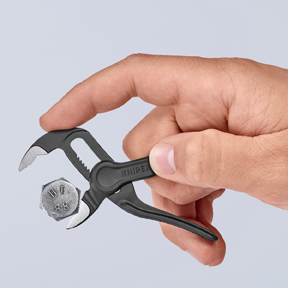 The Cobra XS features a compact design that is just under four inches in length, making it the smallest water pump pliers in the world. Despite its size, the Cobra XS is fully functional and offers many of the same revolutionary features found in other pliers within the Cobra series. These features include self-locking abilities on pipes and nuts for reduced hand-force and no slipping, meticulously designed jaw geometry, specially hardened teeth, pinch guard and now with a one-handed adjustment for fitting various workpiece sizes quickly and easily.
Other features of the Cobra XS include a secure gripping capacity up to one inch, a compact, slim-head design for reaching in tight areas, traditional texturized handles for improved grip and 11 adjustment positions that can be selected with one hand by sliding a handle. The Cobra XS comes in a gray atramentized finish.
"When deciding to scale down our popular Cobra series to the compact size of the Cobra XS, KNIPEX has one word in mind: accessibility," said Peter A. Grable, product manager, KNIPEX Tools. "By replacing the push button with a sliding handle, the Cobra XS is able to lock, adjust and self-clamp onto the desired workpiece with just one hand, even in the tightest or most inaccessible of spots."