Posted September 15, 2021
Koul Tools EZ-ON Hose Press Model 454
Koul Tools has released the EZ-ON Hose Press Model 454 hose assembly tool for Push-Lock hoses.
---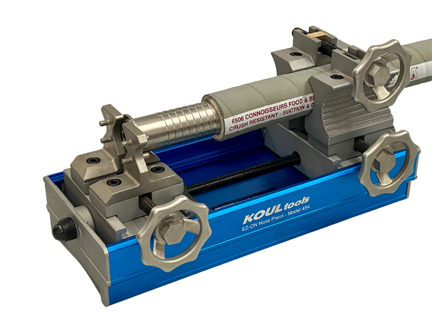 It features a patented vise clamp and lead screw drive system that is compact, lightweight, and has the power to handle difficult hose assemblies. It is operated with a small impact gun, making it ideal for both in-house and on-site hose assemblies.
The EZ-ON Hose Press 454 is simple to use and ergonomically efficient. It utilizes a stationary vise to secure both straight and angled fittings and a traveling carriage with clamps for the hose. The hose is then easily installed by turning the lead screw with a small impact gun.