Posted September 18, 2018
Kutol Pro brand industrial hand care
Kutol Products Company unveiled its new Kutol Pro brand of industrial hand care products for preparing, cleaning and restoring the greasiest, dirtiest, hardest working hands.
---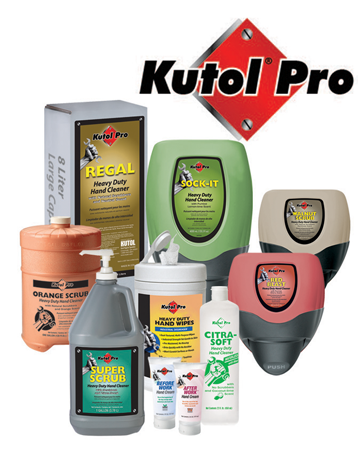 The Kutol Pro line includes new products, updated packaging, and dispensing systems to meet the hand hygiene needs of mechanics, factory workers, construction crews, miners, professional printers, farmers and other professionals.
The new line provides a three-step program for preparing hands before work, hand cleaners to remove grease and grime and a post-work hand moisturizer specifically formulated to restore working hands.
Waterless Hand Cleaners
For workers without access to water, Kutol now offers two hand cleaning products: Kutol Pro Heavy Duty Hand Wipes and Kutol Pro CITRA-SOFT Heavy Duty Hand Cleaner.
Heavy Duty Hand Wipes are dual-textured, pre-moistened towels with a remarkable formulation which quickly cuts through oil, grease, tar, inks, paints, lubricants and adhesive residue. The textured side gently scrubs through soils while the smooth side wipes clean. No rinsing is necessary, simply wipe clean and let dry. These wipes are also great for cleaning tools and equipment.
CITRA-SOFT Heavy Duty Hand Cleaner is a new waterless hand cleaner with a refreshing coconut-lime fragrance. It cleans without scrubbers and easily wipes off with a paper or cloth towel.
Sleek, New DuraView Dispensers
Kutol's DuraView large capacity dispensers have been updated with new, stylish HDPE (High Density Polyethylene) cartridges. The new cartridges, available in 2-liter and 4-liter sizes, are more durable to withstand rugged work environments. The translucent, easily recyclable material allows users to see the color and soap level of the product.
New Portable Squeeze Bottles
The Kutol Pro brand provides heavy-duty hand cleaners in convenient 22 ounce squeezable bottles for ORANGE SCRUB with Natural Scrubbers, RED BLAST with Pumice and CITRA-SOFT Waterless with No Scrubbers. Small enough for a toolbox or truck bed storage box, these squeeze bottles make it easy to carry from one job site to another.
New 5-ounce Hand Creams
Working hands are exposed to chemicals, grease and grime which can lead to the roughening and cracking of skin. Prior to starting a job, a¬pply BEFORE WORK Hand Cream to help repel heavy industrial soils, making it easier to wash them away afterwards.
Keeping skin moisturized is important, particularly for hard-working hands. Use AFTER WORK Hand Cream to soothe, moisturize and restore dry skin, helping to prevent irritation and cracking.
New Packaging
The new Kutol Pro label designs convey that these are tough, sturdy, professional-grade industrial products. Packaging options vary depending on the product but includes five ounce tubes, 22 ounce squeeze bottles, flat-top and pump gallons, and 2-liter and 4-liter dispensing cartridges.
There is a heavy-duty hand care product in the Kutol Pro brand for every hard working professional. In addition to the new hand wipes and hand creams, there is a choice of seven heavy-duty hand cleaner formulas in a variety of colors (bright green, tan, orange, light green, dark tan, red and white), scrubbers (pumice, perlite, walnut shells, synthetic and no scrubbers) and fragrances (orange, lemon-lime, cherry, citrus, rainforest, neutral and coconut-lime).