Posted August 14, 2018
Kyocera Senco FinishPro 16XP
With the new FinishPro 16XP, Kyocera Senco continues to expand its line of professional grade pneumatic finish nailers, offering contractors the increased power and durability necessary to handle jobs using tougher substrates.
---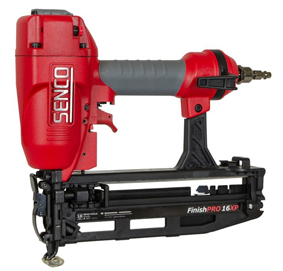 The new 16-gauge tool features a unique, stamped-spring EZ-Clear latch system which produces a tighter drive track, allowing for more power to be transferred into the fastener. This significantly increases the tool's holding power while virtually elim-inating misfires, jamming and downtime.
Knowing that tougher substrates have become more common on the jobsite, SENCO also developed a new XP motor for the FinishPro 16. This motor delivers significantly increased power for new, denser materials.
Weighing in at just four pounds, the FinishPro16XP has a highly durable magnesium body coupled with an ergonomic grip which makes the tool light, impressively resili-ent and easy to use. Firing brad nails from 1-1/4 to 2-1/2 inches in length, it is ideal for applications such as finish and trim, cabinets, molding, baseboard, chair rails, and casings.