Manhole mounted LED light fixture
Larson Electronics released a Group B approved temporary manhole mount LED light fixture that provides operators with a powerful and highly convenient alternative to traditional string or tank lights.
---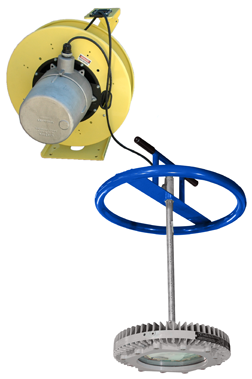 An innovative 24" man-way support bracket combined with a compact design and LED technology make this lamp an excellent lighting solution for operators working within storage tanks, railcars, and other locations where entry is through a 24" manhole opening. The MMLP-1MLED-B-24OD-36P-20O-100HR from Larson Electronics is Class 1 Division 1, Group B approved for use in environments where hydrogen is always present. The copper free aluminum alloy body is powder coated for added durability and an attractive aesthetic appearance. A special heat dissipating design in conjunction with advanced LED technology helps this fixture achieve an excellent 60,000 hour rated lifespan with 80% lumen retention. This 16" diameter LED light is attached to a 24" supporting plate which allows the light fixture to hang inside the tank or railcar while the supporting plate rests on the lip of a man-way opening. This mounting system provides an extremely versatile lighting option for those working in confined spaces such as rail cars, storage tanks, ship tanks and the like where entry is through a 24" man-way opening. The light is suspended 36" from the lip to lower the light source into the tank.