Posted August 8, 2017
LiftWise LiftMaster 4000 Lift Table
Designed for maximum convenience and versatility, the new LiftMaster 4000 lift table from LiftWise can be used to lift and lower a wide variety of parts into the ideal position for maintenance, service and other needs.
---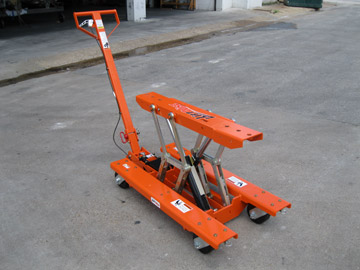 Featuring a low profile, compact design, the LiftMaster 4000 is a valuable addition to any heavy equipment shop, repair facility or other service operation.
The LiftMaster 4000 has a maximum capacity of 4,000 pounds when raised. Fully extended, the lifting table rises to 27 inches. A wide pedestal with vertical protrusions gives the lifting surface a saddle-like feel to allow for safely securing loads. Additionally, optional arm attachments can be used to better lift various components, such as pumps, belly guards and engine covers.
Actuated by a hand pump handle, the double-acting pump allows the operator to reach the maximum height in less pumps than competitive units on the market, saving time and effort. A simple pull of the ergonomic trigger lever gravity lowers the table to its compact 8.5-inch height. Four oversized swiveling casters (2 front swivel with brakes and 2 rear swivel locking) enhance maneuverability and positioning of the table. When not in use, the pump handle can be folded over the table for simplified storage.
LiftWise is the material handling group at Diversified Products.