Posted March 22, 2017
Lincoln Electric Viking 3350 Hot Rodders Welding Helmet
Classic hot rod cars inspired Lincoln Electric's latest helmet design in its VIKING 3350 Series, the Hot Rodders concept.
---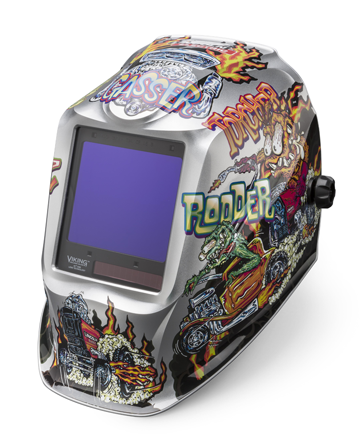 The hand-drawn artwork's vibrant color scheme blends various welding and hot-rod-inspired themes to form a design intended for car enthusiasts from every era.
There's more to this VIKING 3350 helmet than its eye-catching graphics. It also provides premium optical clarity delivered in one of the industry's largest viewing areas, thanks to Lincoln Electric's 4C™ Lens Technology.
The 4C stands for the following attributes:
• Clarity – Optical clarity at the highest EN379 1/1/1/1 levels
• Color – Real color view without a common green tint
• Carat – Lightweight auto-darkening filter
• Cut – Even shade from any angle
This 4C technology reduces eye strain by minimizing the traditional green coloring in the helmet view screen in both active and inactive states. It is ideal for a range of industries that use multiple welding processes, such as SMAW, MIG and TIG, including general fabrication, power generation, shipbuilding, structural, offshore and pipeline.
All VIKING 3350 Series helmets offer a pivot-style headgear designed for greater comfort and optimal fit.