Little Giant Ladder fall prevention line
Little Giant Ladder Systems launched its new fall prevention product line.
---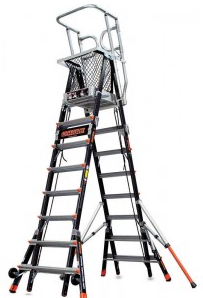 The company enlisted the expertise of contractors, safety officers, and trade professionals from across the nation to help create the versatile, easy-to-use, durable product line designed to help prevent injuries and save lives. Unlike ladders of the past, the new product line contains guardrails, handrails, claw attachment systems, fall-arrest equipment and other innovative, patented features.
The Claw
Some of the worst ladder injuries occur when a working professional uses an extension ladder to access scaffolding or to work on utility pole strands. The Claw allows a person on the ground to securely fasten the top of an extension ladder to a fixed anchor point, scaffolding or a utility pole strand. The Claw's fastening system is activated by the weight of the ladder and becomes even more securely fastened when bearing the weight of the person.
The Cage
Many industrial companies now require operators working above a certain height to either tie off to a suitable anchor point or work in an approved enclosure. Until now, these regulations could sometimes be counter-productive and in many cases, very difficult to follow. The Cage's fully enclosed, completely adjustable work platform allows aerial access without requiring operators to tie-off.
Each side of the Cage adjusts independently, allowing operators to place the standing platform at 5, 6, 7, 8, or 9 feet (also available in 3-to-5-foot and 8-to-14-foot models). The Cage adjusts to work over obstacles, uneven surfaces, and even stairs. Retractable stabilizing outriggers increase the base width and prevent tips or falls from over-reaching.