Loctite Water-Soluble Anti-Spatter Spray
To eliminate the time and cost required to clean weld spatter from parts, Henkel Corporation has introduced Loctite SF 7909 Anti-Weld Spatter.
---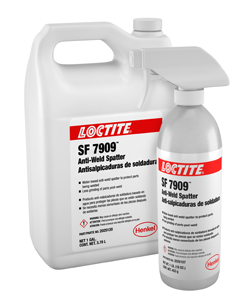 This temporary coating is sprayed onto parts prior to welding to reduce the deposit of spatter onto unpainted metal. The new anti-spatter spray does not affect weld reliability and does not need to dry before welding, so parts can move immediately to the paint process. Since the coating is water-based, it rinses off easily with water or alkaline cleaners.
Loctite SF 7909 expands the line of Henkel products for welding and fabrication. The Anti-Weld Spatter product joins Loctite SF 7900 Ceramic Shield for Welding, a silicone-free sprayable coating that prevents spatter adhesion on welding equipment, fixtures and tools for up to eight hours; and Loctite 290 Threadlocker, a wicking grade anaerobic adhesive that fills and seals porosities in welds, castings and powdered metal parts.
Loctite SF 7909 is packaged in a durable, refillable, 16 oz. metal bottle with a trigger spray. This metal container won't melt if inadvertently exposed to spatter. A one-gallon refill size is also available.