Loctite Structural Adhesives and NVH Selector Guide
Henkel Corporation introduced its new Loctite Structural Adhesives and NVH Selector Guide.
---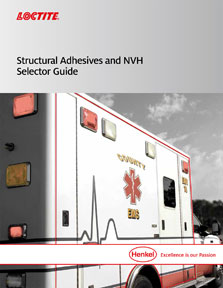 This 30-page brochure is designed to educate readers about the performance of structural adhesives in demanding, high-stress applications, and to communicate their ability to reduce noise, vibration and harshness. Engineered to eliminate or greatly reduce fasteners and welds from an assembly, structural adhesives provide superior bond strength, long life and dependability in a variety of bonding applications involving metals, plastics, composites, magnets and dissimilar surfaces or substrates.
The brochure is divided into three sections: considerations for selecting a structural adhesive; chemistries and products, and a review of dispensing equipment. The Guide provides an in-depth tutorial on adhesive joint design for stress reduction and presents a performance and process overview in table format of the four main structural bonding technologies: epoxies, urethanes, two-part acrylics and two-step acrylics. For each technology, the Selector Guide leads the reader through a question and answer process to determine the appropriate product for their application.
The section on NVH (noise, vibration, harshness) offers an overview of adhesives for acoustic, seam sealing and bonding applications, focusing primarily on the agricultural, construction, specialty vehicle and appliance markets. This information details Henkel's Acoustics Lab and Engineering Services and reviews two-step acrylic adhesives for difficult or challenging applications addressing NVH issues. The brochure also includes a two-page chart identifying dispensing applicators and nozzles specifically designed for use with structural adhesive technologies.