Posted April 30, 2018
Crescent/Lufkin auto lock tape measures
Crescent/Lufkin announced a new line of Auto Lock Tape Measures redesigned for comfort, durability and ease of use.
---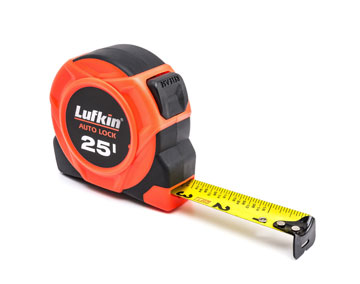 The new Auto Lock tape measures are offered in three styles: 1" x 25' Standard, 1" x 25' Magnetic, and 25mm x 8m Metric. All boast a Hi-Viz orange case that is easy to see on a jobsite and is designed to fit comfortably in your hand. The Auto Lock function keeps the blade locked in extended position until you depress the release button for retraction.
Standard and Magnetic versions feature vertical "quick read" markings that show both fractional and decimal measurements. The Metric blade contains both metric and imperial markings. Dual magnets in the end hook of the Magnetic tape are powerful enough to serve as a pick-up tool.
"These new Auto Lock tape measures are built with user wants and needs in mind," said Kevin Fitzpatrick, product manager. "They provide versatility and ease of use on the job site, plus amazing comfort and durability at an affordable price."
All three versions are ideal for layout and trim work and feature an integrated D-ring that accepts a tether for working at heights.