Posted June 13, 2017
Lufkin Centerline Balance Measuring Wheel
Lufkin announced its Lufkin Centerline Balance 12-Inch Professional Measuring Wheel.
---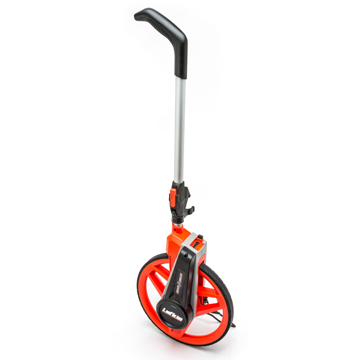 Unlike most large measuring wheels, the Lufkin Centerline Balance wheel is not offset, but is mounted directly in line with the handle for better balance and accuracy.
The wheel's counter has a gear drive, which is more durable and delivers greater long-term accuracy than belt-drive counters. The counter readout is top-mounted above the wheel, bringing it closer to the user for maximum visibility. The readout measures to 9,999 feet 11 inches and features a heavy-duty counter reset.
An integral wheel wiper prevents mud build-up for consistent results. The folding handle features a sturdy damage-resistant breakaway joint.
"Accuracy and durability are critically important to professionals who use measuring wheels every day," said Brendan Walsh, senior product manager. "This wheel has both. The center-mounted wheel gives it greater accuracy and the breakaway handle joint and gear drive deliver long-lasting durability."