Posted April 8, 2021
MAX Mobile Workstation
The MAX Mobile Workstation is ideally suited for flexible data collection and independent work in the warehouse environment.
---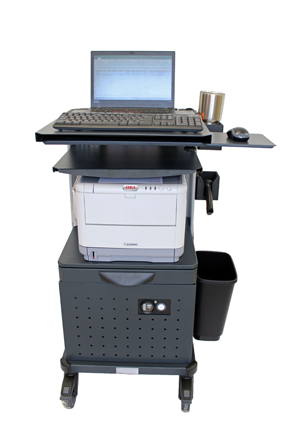 Now with the manufacturing assembly operation in Wood Dale, Illinois, the MAX Mobile Work-stations can be built to your customized specifications, improving your operations with quick ROI. Independent from the main electrical supply, the user can document incoming goods in the IT system directly at the point of delivery. The advantages include minimized back and forth walking, the ability to store goods faster, and fewer stationary work stations. In addition, a cold store / freezer version is available for low cold storage temperatures -28 C (-18F).
The extremely robust design and flexible modular system with a wide range of options ensure a process-optimized work station that is tailored to your specific requirements.
The standard (STD) version of the MAX mobile workstation features two maintenance-free 12 V/60 Ah gel batteries and 230 V/350 VA voltage transformer. This enables the operation of portable devices such as PCs, terminals, screens, scanners and label or laser printers. To achieve higher performance, the mobile workstation MAX is available with 800 VA or 1500 VA versions with lithium-ion phosphate battery, and one for refrigerated storage areas are also available.