MPS Centurion Vision Plus Helmet
MPS Centurion, a unit of Mine & Process Service Inc., has introduced the Centurion Vision Plus Helmet with integral, high impact eye protection.
---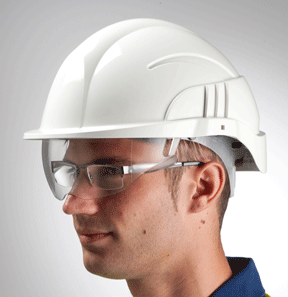 The Vision Plus Helmet is manufactured of ABS and tested to ANSI Z89.1-2009, Type 1, Class E. The integrated eye protection is a molded, optical-quality lens that can be used over common eyeglasses and has been tested to ANSI Z87+. Head And Eye Protection In One Integrated Product! The Vision Plus Helmet includes an extended nape for neck protection and is supplied with a slip ratchet, or wheel ratchet headband for quick and comfortable, size adjustment.