Posted September 4, 2019
Madison Chemical Clean-Gard 83
Madison Chemical introduced CLEAN-GARD 83, an alkaline detergent specifically designed for removing aged, oxidized, burned-on oil, removing grease, and for other difficult cleaning operations.
---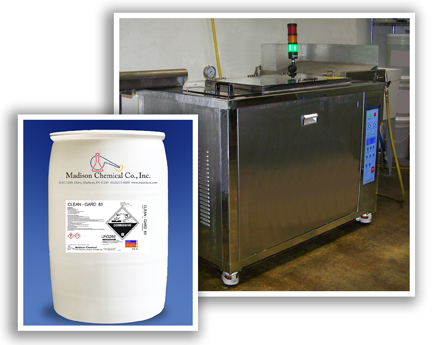 Intended for immersion application, including ultrasonic and agi-lift, as well as recirculation spray washers up to 25 psi, this proven product cleans more thoroughly in less time, thus increasing productivity. Unique formulation produces low-to-moderate foam, maximizing ultrasonic cavitation. When the cleaning solution is not rinsed, it offers very good rust protection. It is ideal for use with ferrous, aluminum, and zinc alloys when used as directed, making it ideal for a wide range of manufacturing environments.
For immersion applications, CLEAN-GARD 83 is typically diluted to 3-10% by volume in water and used at 120 F to 160 F. Heavier soils and/or ultrasonic applications may benefit from use at higher temperatures up to 190 F. Depending upon production needs, the cleaning step may be followed with an ambient-to-warm water rinse. Do not rinse if rust protection is desired.
For recirculated spray washers, use at 2-10% by volume in water from 130 F to 160 F up to 25 psi maximum.
Madison Chemical representatives can assist with recommendations on dilutions and procedures on specific applications.