Marco bulk bag racks
Marco Group International introduced a new, state-of-the-art abrasive Bulk Bag Rack to help streamline the filling process for bulk abrasive blasting pots.
---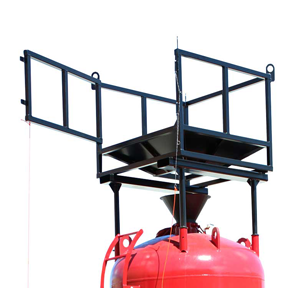 The redesigned Bulk Bag Rack includes a swinging gate designed to streamline the process of loading abrasive bulk bags in the rack. The swinging gate has an integrated chain and rope to allow the operator to open and close the gate from the ground. The footprint of the bulk bag rack will fit in the bulk bag rack collars on all Marco bulk abrasive blasting pots. The redesign is another way that Marco is innovating the abrasive blasting industry.
"Marco is always looking for ways to make the job site safer", says Matt Molumby, director of engineering. "The new Bulk Bag Rack has a lower overall height, allowing for standard job site fork lifts to load bulk bag racks into it. This easier access will speed up the abrasives loading process for bulk pots, helping you to get blasting faster."