Posted March 9, 2017
Martin Wrench Retainer
The Martin Wrench Retainer is a safe and easy-to-use tool designed to hold a striking wrench (also called a slugging wrench or hammer wrench) on a nut for a safer, hands free, one man operation.
---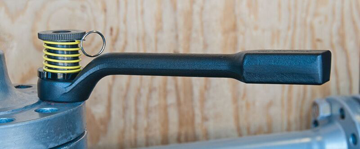 The Martin Wrench Retainer tool easily threads onto the stud. A spring-loaded plate enables the wrench to be repositioned on the nut without removing the retainer.
Martin Wrench Retainer wrench retainers are sold individually and in sets. Industry standard sizes are available in black oxide coated steel and suitable for use with Martin's 6 pt and 12 pt straight or offset wrenches.